The Sentries
Yama
Description: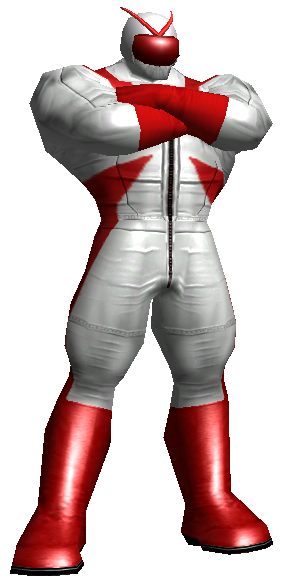 Identity:
Occupation: Former Sumo Wrestler, Superhero
Other Aliases: None
Gender: Male
Height:
Weight:
Hair: Black
Eyes: Brown
Place of Birth:
Known Relatives: None
Group Affiliations: Defense Force Ultra
Status: Active
Former sumo wrestler and member of Japan's Defense Force Ultra. Possesses the ability to make his body super-dense, granting him enhanced strength and resistance to injury. Known for his "thunderclap" and "earthquake foot" techniques. Identity is public knowledge.
Bio:
Yama
PL: 10 (155 pp)
ABILITIES

:

STR

: 18 (+4)

DEX

: 14 (+2)

CON

: 20 (+5)

INT

: 12 (+1)

WIS

: 16 (+3)

CHA

: 14 (+2)
SKILLS: Diplomacy 4 (+6), Intimidate 8 (+10), Know: Theology and Philosophy 4 (+5), Language 2 (Chinese, English), Medicine 3 (+6), Notice 5 (+8), Pilot 2 (+4), Profession: Rikishi 5 (+8), Sense Motive 7 (+10)
FEATS: Assessment, Distract (Intimidate), Equipment 1, Improved Grab, Improved Grapple, Improved Overrun, Improved Pin, Improved Trip, Interpose, Power Attack, Startle, Stunning Attack
POWERS:
Growth 8 (Reaction, Escalates 1 rank per +4 physical hit, Slow Fade 3)
Immovable 5
Protection 6 (Impervious vs Physical Only 12)
Super-Strength 2 (Heavy 1200 lbs., Max Load 1.2 tons, Groundstrike, Shockwave, Thunderclap)
EQUIPMENT: Commlink
COMBAT: Attack +10, Grapple +16, Damage +4 (Unarmed), Defense +10, Knockback -15, Initiative +2
SAVES: Toughness 10, Fortitude 7, Reflex 5, Will 8
Large Size
| | | | |
| --- | --- | --- | --- |
| Str: 26 (+8) | Con: 24 (+7) | Toughness +12 | Fortitude +9 |
Skill Bonus: Intimidate +2 (+12), Stealth -4 (-2)
Combat: Attack +9, Grapple +23, Damage +8, Defense +7, Knockback -16, Initiative +2
Light: 1224 lbs, Med: 1.2 tons, Heavy: 1.8 tons, Max: 3.7 tons, Push: 9.2 tons
Huge Size
| | | | |
| --- | --- | --- | --- |
| Str: 34 (+12) | Con: 28 (+9) | Toughness +14 | Fortitude +11 |
Skill Bonus: Intimidate +4 (+14), Stealth -8 (-6)
Combat: Attack +8, Grapple +30, Damage +12, Defense +16, Knockback -17, Initiative +2
Light: 1.9 tons, Med: 3.7 tons, Heavy: 5.6 tons, Max: 11.2 tons, Push: 28.0 tons