The Sentries
Univox
Description: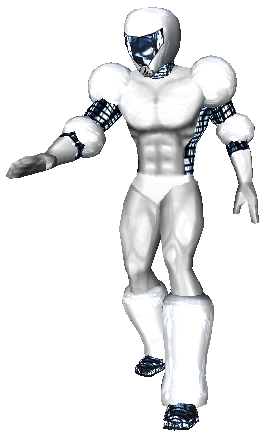 Identity: Anthony Wisniewski
Occupation: IT Consultant
Other Aliases: None
Gender: Male
Height: 6' 3"
Weight: 190 lbs.
Hair: Brown
Eyes: Hazel
Place of Birth: Chicago, IL
Known Relatives: Tom Wisniewski (brother), Amber Reynoso (aunt), Michael Favaro (cousin), Andrea Lucero-Sumner (cousin), Mario Villegas (cousin)
Group Affiliations: The Sentries
Status: Active
Founding member of the Sentries. Wears a suit of bio-metal powered armor than provided him with life support, enhanced resistance to physical damage, and the ability to generate and control sonic and kinetic energy.
Bio:
Univox
PL: 10 (163 pp)
ABILITIES

:

STR

: 12 (+1)

DEX

: 16 (+3)

CON

: 14 (+2)

INT

: 14 (+2)

WIS

: 14 (+2)

CHA

: 16 (+3)
SKILLS: Computers 6 (+8), Concentration (+2), Craft: Artistic 6 (+8), Craft: Electronic 6 (+8), Diplomacy 3 (+6), Disable Device 6 (+8), Intimidate 5 (+8), Know: Art 4 (+6), Know: Technology 6 (+8), Language 2 (German, Spanish), Medicine 2 (+4), Notice 8 (+10), Pilot 3 (+6), Search 4 (+6), Stealth 7 (+10)
FEATS: All-out Attack, Attack Focus (Ranged) 2, Attractive 1, Inventor, Luck 1, Move-by Action, Online Researcher, Power Attack
POWERS:
Living Armor (Device 17)

Communication 7 (Radio)
Flight 7
Immunity 9 (Life Support)
Protection 8 (Impervious 10)
Sonic Control 10 (Dazzle All Auditory Senses, Precise)

AP: Illusion 10 (Auditory & Radio Senses)
AP: Insubstantial 4
AP: Shatter (Drain Toughness 10, Objects Only)
AP: Sonic Blast 10 (Precise)
AP: Stun 7 (Ranged)
AP: Vibration Control 7 (Touch Range, Cone Area)

Super-Senses 10 (Radio Hearing, Sonar, Ultra-Hearing, X-Ray Vision: Ultrasound)
COMBAT: Attack +8 (+10 Ranged), Grapple +9, Damage +10 (Sonic Blast), Defense +10, Knockback -10, Initiative +3
SAVES: Toughness 10, Fortitude 5, Reflex 8, Will 5
DRAWBACKS: Normal Identity (Full Round to Activate Armor)
Abilities 26 + Skills 17 (68 ranks) + Feats 9 + Powers 68 + Combat 36 + Saves 11 – Drawbacks -4 = 163 / 163