The Sentries
Unicorn, the
Description: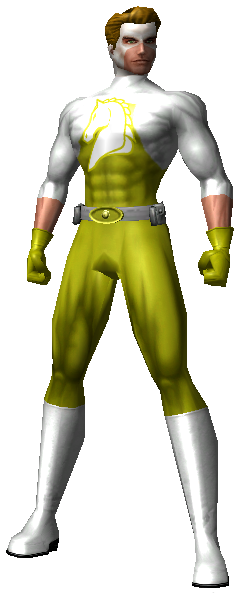 Identity: Sir Dr. Gordon Charles
Occupation: Physician, Bodyguard
Other Aliases: None
Gender: Male
Height: 5' 10"
Weight: 170 lbs.
Hair: Blonde
Eyes: Blue
Place of Birth:
Known Relatives: None
Group Affiliations: Former partner of the British Lion
Legal Status: Citizen of the United Kingdom
The United Kingdom's national hero. Possesses enhanced physical attributes, regeneration, and the ability to heal wounds in others. Discovered his paranormal powers while in medical school, eventually became the partner of the British Lion.. Identity is public knowledge. Currently operates primarily as a goodwill ambassador and official bodyguard to the British royal family.
Bio:
The Unicorn
PL: 11 (187 pp)
ABILITIES

:

STR

: 18 (+4)

DEX

: 18 (+4)

CON

: 18 (+4)

INT

: 16 (+3)

WIS

: 15 (+2)

CHA

: 17 (+3)
SKILLS: Acrobatics 5 (+9), Concentration 4 (+6), Diplomacy 9 (+12), Know: Civics 3 (+6), Know: Current Event 2 (+5), Know: Life Sciences 9 (+12), Language 2 (French, German), Medicine 6 (+8), Notice 10 (+12), Profession: Doctor 6 (+8), Search 8 (+10), Sense Motive 8 (+10), Stealth 4 (+8)
FEATS: Attack Focus (Melee) 6, Benefit (Knighthood), Connected, Dodge Focus 7, Endurance, Evasion 2, Improved Disarm, Improved Grab, Improved Trip, Move-by Action, Power Attack, Uncanny Dodge (Auditory)
POWERS:
Healing 10 (Stabilize, Persistent, Regrowth, Total, Usable only on Others)

AP: Boost 10 (Ability Scores, One at a Time, Slow Fade 3 (5 Minutes))
AP: Nauseate 11 (Reversible)
AP: Stun 11 (Sedation)

Immunity 3 (Aging, Disease, & Poison)
Regeneration 31 (Diehard, Persistent, Regrowth, +5 to Recovery Checks)

No Action for Bruised/Unconscious/Injured/Staggered
1 Hour for Disabled/Ability/Resurrection

Speed 1
COMBAT: Attack +5 (Melee +11), Grapple +16, Damage +4 (unarmed), Defense +14, Knockback -2, Initiative +4
SAVES: Toughness +4, Fortitude +8, Reflex +8, Will +8
Abilities 42 + Skills 19 (76 ranks) + Feats 24 + Powers 64 + Combat 24 + Saves 14 – Drawbacks 0 = 187 / 187