The Sentries
Temper
Description: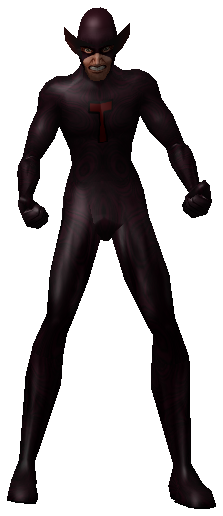 Identity: Thomas Franklin Perry
Occupation: None
Other Aliases: Frank Parish, Ted Portlanger
Gender: Male
Height: 5' 8"
Weight: 160 lbs.
Hair: Brown
Eyes: Brown
Place of Birth: Oxnard, California
Known Relatives: None
Group Affiliations: The Marauders
Status: Incarcerated at the U.S. Penitentiary Administrative Maximum Facility at Florence, Colorado.
Thomas Perry is a slim Caucasian male of slightly above average height. As Temper, he wears a dark purple bodysuit with a "T" emblazoned on the chest and a matching full mask with a winged brow.
Bio:
Former psychiatric patient. Credits experimental drug therapy with granting him his powers, believes his powers will not work without regular doses. Convicted of multiple counts of aggravated assault, robbery, and second-degree murder.
Temper
PL: 10 (140 pp)
ABILITIES

:

STR

: 14 (+2)

DEX

: 16 (+3)

CON

: 14 (+2)

INT

: 16 (+3)

WIS

: 20 (+5)

CHA

: 12 (+1)
SKILLS: Bluff 14 (+15), Concentration 10 (+15), Disable Device 7 (+10), Disguise 3 (+4), Escape Artist 7 (+10), Gather Info 7 (+8), Know: Behavioral Sciences 5 (+8), Medicine 1 (+6), Notice 5 (+10), Sense Motive 5 (+10), Stealth 7 (+10)
FEATS: Distract (Bluff), Elusive Target, Improved Distract, Improved Trick, Seize Initiative, Taunt
POWERS:
Concealment 10 (All Sense Types except Tactile, Innate, Only vs. Targets of Emotion Control)
Device 2 (Protective Suit, Immunity to Critical Hits, Protection 8)
Emotion Control 10 (Rage Only, No Range, 100ft Burst Area, Contagious, Mind Blank, Noticeable)

AP: Emotion Control 10 (Rage Only, Continuous, Mind Blank, Noticeable, Perception Range)
COMBAT: Attack +5, Grapple +7, Damage +2 (Unarmed), Defense +10, Knockback -5, Initiative +3
SAVES: Toughness 10, Fortitude 6, Reflex 8, Will 10
Abilities 32 + Skills 18 (72 ranks) + Feats 6 + Powers 40 + Combat 30 + Saves 14 – Drawbacks 0 = 140 / 140