The Sentries
Steel Cobra
Description: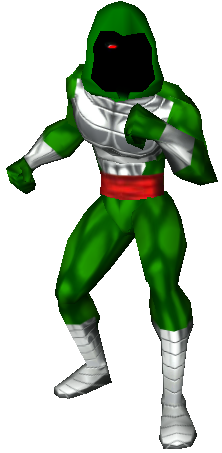 Identity: Tony Garcia
Occupation: Emergency Medical Technician
Other Aliases: None
Gender: Male
Height: 5' 11"
Weight: 200 lbs.
Hair: Black
Eyes: Brown
Place of Birth: Eagle Pass, Texas
Known Relatives: Classified
Group Affiliations: The Sentries
Status: Active
Member of the Sentries possessing enhanced physical attributes, limited energy projection abilities, and artificially boosted fighting skills. Powers are derived from bio-metal implants throughout his body designed by Doctor Prism.
Bio:
Steel Cobra
PL: 10 (169 pp)
ABILITIES

:

STR

: 30 (+10)

DEX

: 25 (+7)

CON

: 18 (+4)

INT

: 12 (+1)

WIS

: 14 (+2)

CHA

: 14 (+2)
SKILLS: Acrobatics 3 (+10), Computers 5 (+6), Craft: Mechanical 4 (+5), Diplomacy 4 (+6), Disable Device 4 (+5), Drive 2 (+9), Gather Info 4 (+6), Intimidate 6 (+8), Know: Streetwise 4 (+5), Language 1 (Spanish), Medicine 5 (+7), Notice 10 (+12), Pilot 2 (+9), Profession: EMT 4 (+6), Search 7 (+8), Sense Motive 4 (+6), Stealth 3 (+10)
FEATS: Connected, Equipment 1, Evasion, Improved Block, Improved Critical (Unarmed), Improved Initiative, Improved Sunder, Improved Trip, Power Attack, Skill Mastery (Acrobatics, Notice, Search, Stealth), Startle, Takedown Attack 2, Ultimate Recovery
POWERS:
Datalink 1 (10ft Range)
Laser Eye (Blast 8)
Leaping 5 (Breakfall)
Protection 6
Super-Senses 7 (Darkvision, Extended Vision x1000, Infravision, Cellular Microscopic Vision)

AP: Holographic Eye

Eidetic Memory
Illusions 3 (Audio & Visual, Only What Has Been Observed with Eidetic Memory)

Super-Strength 2
COMBAT: Attack +10, Grapple +22, Damage +10 (Unarmed, Crit on 19-20), Defense +10, Knockback -5, Initiative +11
SAVES: Toughness 10, Fortitude 5, Reflex 8, Will 5
EQUIPMENT: Sentries Communicator, Mini First Aid Kit (+1 to Medicine), Multi-Tool, Rebreather, Zip Ties
DRAWBACKS: Vulnerable to Electricity
Abilities 53 + Skills 18 (72 ranks) + Feats 14 + Powers 42 + Combat 40 + Saves 5 – Drawbacks -3 = 169 / 169