The Sentries
Eclipse
Description: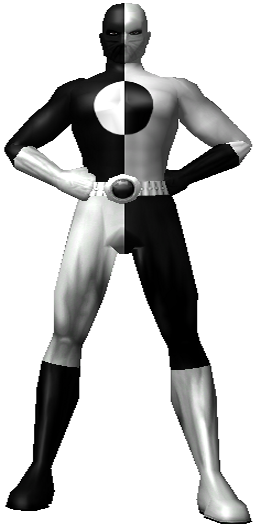 Identity: David Mendoza
Occupation: Mechanic
Other Aliases: None
Gender: Male
Height: 5' 11"
Weight: 220 lbs.
Hair: Black
Eyes: Brown
Place of Birth: Chicago, Illinois
Known Relatives: Luis (father), Nita (mother), Angela (sister), Paulo (brother)
Group Affiliations: The Sentries
Status: Inactive
Former Sentry with the ability to generate light (including lasers) and fields of impenetrable darkness. Left the Sentries after his close friend, Tempest, was killed in action. Tried to exploit his powers for personal gain, arrested and convicted on several robbery charges. Volunteered to be the first to undergo NEST's experimental Superpower Abolishment Program in exchange for clemency. Currently works as an auto mechanic in Chicago's south suburbs.
Bio: