The Sentries
Doctor Prism
Description: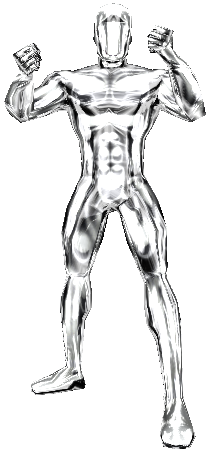 Identity: Peter Wiser
Occupation: Physicist, criminal
Other Aliases: None
Gender: Male
Height: 5' 9"
Weight: 170 lbs.
Hair: Brown
Eyes: Brown
Place of Birth: Newark, New Jersey
Known Relatives: Alberta Wiser (former wife), Dawn and Ellen (daughters)
Group Affiliations: None
Status: Wanted by NEST
Gizmoteering genius who discovered bio-metal. Created an armored suit that analyzed and duplicated the superpowers of others. Ex-husband of the Mechanician, father of Dawn and Ellen Wiser.
Bio:
Doctor Prism
PL: 14 (169 pp)
ABILITIES

:

STR

: 11 (0)

DEX

: 13 (+1)

CON

: 15 (+2)

INT

: 25 (+7)

WIS

: 16 (+3)

CHA

: 12 (+1)
SKILLS: Bluff 9 (+10), Computers 6 (+13), Concentration 5 (+8), Craft: Electronic 6 (+13), Craft: Mechanical 6 (+13), Disable Device 6 (+13), Gather Info 9 (+10), Know: Physical Sciences 6 (+13), Medicine 3 (+6), Notice 7 (+10), Sense Motive 5 (+8)
FEATS: Eidetic Memory, Inventor, Seize Initiative, Taunt, Well-Informed
POWERS:
Reflective Armor (Device 20, Hard to Take)

Adaption 1
Mimic 10 (All Powers & Enhanced Abilities, Continous, 5 Subjects, Perception Range, Tainted)
Super-Senses 3 (Detect Wiser Energy at Extended Range, Mental Danger Sense)
COMBAT: Attack +5, Grapple +5, Damage +0, Defense +5, Knockback -1, Initiative +1
SAVES: Toughness 2, Fortitude 7, Reflex 6, Will 8
Abilities 32 + Skills 17 (68 ranks) + Feats 5 + Powers 80 + Combat 20 + Saves 15 – Drawbacks 0 = 169 / 169